Parapromotions offers the Spanish Paradores®, luxury hotel accommodation in Castles, Palaces, Convents, Monasteries, Fortresses and other historic buildings. The group also has a few modern Spanish hotels, built in the traditional style, in areas of outstanding beauty.

The Parador® hotels are throughout Spain, from Galicia in the North to Andalusia in the South, also in the Canary Islands and in Ceuta and Melilla, the two Spanish cities in North Africa.
The building is often part of the heritage of Spain although there are some modern hotels in a spectacular location. If this is the first stay at one of these Spain hotels, you will find there is most pleasant surprise waiting.

As the state maintains the buidings, it tries to locate Paradors® in areas where it is not in competition with the private sector and many are in smaller medieval towns and villages first inhabited long ago.

The Spanish Paradors® were set up by the government to use the income from Spain Hotels to make a contribution to the upkeep of the buildings owned, and to help beautiful regions with few economic resources.

The group is renowned for the high standard of service given to guests while the prices are lower than expected especially to those taking advantage of a promotional rate.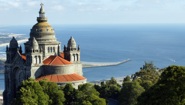 Visit the iconic

POUSADAS OF PORTUGAL

Cross the border into Portugal
and stay at the Pousada hotels, luxury hotels in superb locations.