Comments Parador Leon
The San Marcos Monastery, whose construction began in the 16th century, replaced another 12th century monastery from the times of King Alfonso VI.
Different artists immortalized the past where the strength of his legacy can be seen in stone and wood, making the Parador of Leon a living museum.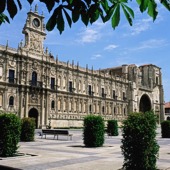 The past emerges in the Cloister and Chapterhouse embracing the present with a learned renovation of large rooms. In days gone by these sheltered pilgrims. There are suites located in the original building with views of the square and also an annex constructed in the 20th century where the majority of the accommodation is housed.
Regal halls, spacious rooms, a library and a restaurant which in the main part offers an impeccable traditional gastronomy with touches of signature cuisine; all of which makes the Parador de San Marcos a unique establishment on St. James's Way and the Silver Way.

Below are some comments of guests who recently stayed in Parador Leon.

Information and reservations at Parador of Leon
40 Comments about "Parador Leon"