Comments Parador Guadalupe
The Parador of Guadalupe sits atop what was the old 15th century San Juan Bautista Hospital and the former 16th century Infantes or grammar school –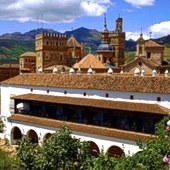 important learning centres for medical surgery and grammar respectively.
The hotel is located in the old town and has been declared a heritage site facing the world heritage site of the town of Guadalupe. The garden – a true orchard of plants and flowers -, the Gothic and Mudejar cloisters, the secluded pool and the large white-walled indoor spaces truly standout. In the dining room: monastic cod, almond and garlic gazpacho, Extremadura migas (fried breadcrumbs with meat and spices) and La Serena cheesecake.

Below are some comments of guests who recently stayed in Parador Guadalupe.

Information and reservations at Parador of Guadalupe
8 Comments about "Parador Guadalupe"