Comments Parador Ceuta
The Parador of Ceuta is housed in a modern building attached to the old Royal Walls, in the Plaza de Nuestra Senora de Africa – the nerve centre of Ceuta. The location offers magnificent panoramic views out over the sea, the old town and even the coast of the peninsula.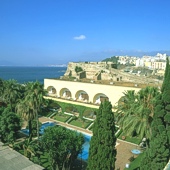 An impregnable fort for years, the vaults of the old Artillery were built on the Royal Walls, presently used as suites.
The hotel bedrooms look out onto a palm-filled garden with an impeccable pool and exceptional sea views. To the inside, the complex preserves elements from several civilizations with an emphasis on Arabic influence.
The furnishings are modern with a traditional touch and the plant-filed dining room has Moorish and Andalusian features with fish and meat dishes in sauces and spices.

Below are some comments of guests who recently stayed in Parador Ceuta.

Information and reservations at Parador of Ceuta
2 Comments about "Parador Ceuta"